WestJet has truly done it again.
Last year the Canadian airline had me alternately reaching for tissues, hitting the video share button and patting the seat next to me as I forced people to sit with me and watch as they (and Santa) surprised their passengers with the gifts of their heart at carousel eight. (Sure, go ahead and tell me I've seen it too many times since I can actually QUOTE IT).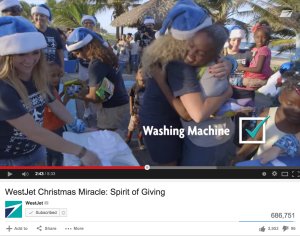 This year, they've gone international. And I'm still crying. With a blue sleigh parked in the center of a small Dominican Republic village, Santa hears the holiday wishes from both children and adults. And once again, the WestJetters hit the local stores to make dreams and wishes come true….a doll, a washing machine, and for two men working to feed their families: a new motorcycle engine and a horse! The gifts are delivered amidst under the beauty of a warm sun, manufactured snow and so many smiles I had to watch it three times to make sure I absorbed all of the goodness. As if that wasn't enough, they built a playground in the middle of the village for ALL of the children to enjoy.
Watch.
You guessed it: still crying.
But what makes this video viral? And is it possible for WestJet to guarantee virality?
Well, as to the guarantee, I'd hedge a 'no'…but if you pay attention to enough videos like this one, you can certainly pinpoint a few keys to their success.
Here are five to keep in mind.
5 Tips to Increase Your Viral Video Potential
Aim for Emotion - WestJet offers emotion in spades. You're smiling, you're laughing, you're crying. You are reaching out to grab the person next to you to make sure they JUST SAW THAT: (Santa brought him a horse! And it's so he can work TO FEED HIS FAMILY.) Double whammy. When we feel something – whether it's tears of joy, inspiration, a jawdropper or something that tickles our funny bone, we can't help but feel moved. And compelled to share.
Think Shareability:  But what do you do if no one is sitting in the chair next to you? You click share. You copy and paste the link. You put it on Facebook. On Twitter. On Google+ and say, 'you simply must see this'.  And then we talk about in person – we say, 'did you see….??'. We share when a video moves us in some way. It has a 'share factor' of 10 if your first inclination is to look around to see who can watch with you, to think my husband/wife/mom/best friend/kids simply must see this. My kids and I have a few moments every day when they come home from school and I share the videos I know they'd want to see. Everything from the accidental and funny – our favorite has to be 'Worry About Yourself'  (over 5 million views), to the cool – 11 year old Taylor is a crazy amazing dancer with her choreographer Lawrence – (10 Million views) to the sweet – this 10 month old cries from emotion as he listens to his mom sing (more than 11 million views) to the inspirational – TD Canada created the Automatic Thank You Machine (nearly 19 million views).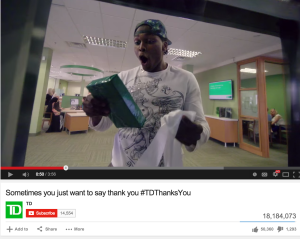 Stay True to Your Brand: Your videos should showcase your brand's core values… you know the ones you try to live even when the camera is off. Here's the thing about the WestJet videos - you get a feel for the brand, for how they feel not only about their own customers (last year) but how they aim to spread good in the world (this year). And even better – they are involving their employees. Sure, I've seen some of the comments – so I know the cynics call it a publicity stunt, but the positive response the brand receives far outweighs the other. If you're wondering 'why they did it' – watch their video and know this isn't the first time WestJet has sent employees to do good in the Dominican Republic (yes, they've gone without 'viral video camera crews) I've found that the most successful 'viral' brand videos are the ones that make YOU, the viewer want to use the service or product. Heaven knows I'd fly WestJet or look in to banking at TD Canada if I could. I get the 'feeling' these brands care about their customers – and that's a good thing. Does that make them perfect? No. But it gives their videos legs and opens the minds of potential customers. That's a win. Just like I expect adrenaline from RedBull and some type of comedy from the Old Spice Man. Gosh, I miss him.
Consistency and Committment – Of course there are 'one-hit-wonders' – those videos that happen spontaneously – Charlie biting his big brother's finger (805 MILLION views) or Ted Williams, a homeless man with an extraordinary voice getting national attention (and jobs!), but for a brand to create videos with viral capacity, it requires committment not only to their brand image, but to engaging in the video space. Showing up on YouTube one day and *hoping* for an audience isn't exactly smart planning. Developing an audience and engaging with them by creating content that represents you gives you an audience base for the moments when you want to make a big splash.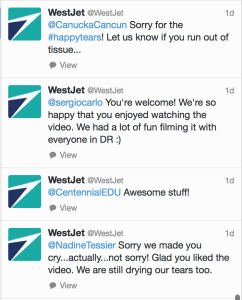 Market Yourself - Once you upload that video on to YouTube and share it with the world, you have to have a plan in place to make sure that people see it so THEY have the opportunity to be moved by it (laugh, cry, feel inspired) and then share it. In WestJet's case, they released the video on November 30th and in less than three days, it has more than 700K views. They shared initially on Twitter, and on Facebook, but their YouTube is also connected to Google+ and they have continued to engage with their audience on all of the platforms as people see and respond. Additionally, they are sharing snippets on Facebook to keep the conversation going.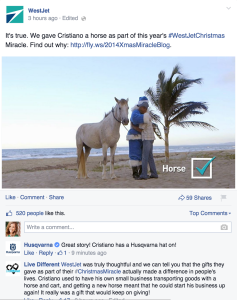 So there you have it… a few suggestions I hope will get you on your way.
What are some tips you'd offer? And what brands are doing it right. Share in the comments.