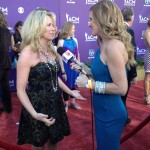 We are just going to go right ahead and call this a 'PINCH-ME-LIFE-MOMENT'.  I shared with you a few months ago that I experienced what amounts to a 'dream come true' when I was given the opportunity to work as a correspondent on the Red Carpet at the Academy of Country Music Awards in Las Vegas.
It was everything I imagined it would be.  I was both giddy and awestruck.  I wasn't merely thrilled because I was stepping my four-inch heels onto an actual red carpet.  It wasn't that I was given the opportunity to play 'dress-up', chose a dress I wish I could wear every day, or that I would love to take those hair and make up stylists home to live with me (I do).  It wasn't that I would be surrounded by 'celebrities'.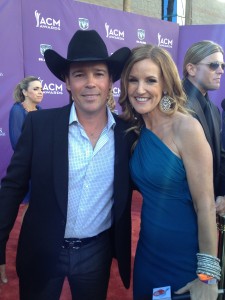 And while I adore country music deep in my soul, it wasn't just that. (I *may* have told Clay Walker that he was the reason I fell in love with country music 20 years ago… and he *may* have told me that was the best thing anyone has ever said to him).
I was petrified, I was a ball of nerves and energy.  I was positive it would be obvious this was my first time here. But, I took a deep breath and forced myself to believe.  I refused to think I had found myself here, in this moment, based on luck.
This is what I have always felt in my soul I was supposed to do…. the interviewing, the video work, the story-telling. I was in my element.  And topping it off – the beauty of an amazing cause – Child Hunger Ends Here.  Each interview I did was better than the last.  With each artist, I found the tension easing… I fell into the skill set I know I possess. I wanted to hear the story.  So, I asked the questions.  And, they answered.
I love this work.
Why am I sharing this with you today, months after the fact?  Today, I was given a gift: the copy of the video here in this post.  It is a copy of a segment that aired on Better TV.  A similar one aired on The Daily Buzz and another on Daytime TV.  All three shows are nationally syndicated.  This is the first time I have seen them.  And this is the first time I have ever appeared on a national show as a correspondent.
I've been interviewed as a guest. I've done many segments as portions of newscasts. And I've reported and anchored on a local level. But this is the first time I've appeared in this capacity. And I am proud of it.
Thank you for sharing this small bit of joy with me.