My heart hurts.
But YOU, my social media friends?  You are just the salve I need.  You give me hope and remind me that this new frontier – this crazy space we are creating moment by moment, tweet by tweet, post by post – is, in fact powerful AND, even better – moved by GOOD.
By now you have to know, Joplin, Missouri – a small town in the SouthWest corner of the state was absolutely devastated by a tornado late this afternoon.  I've been mesmerized by the coverage and the ability of the people in this social media world to respond, to help, to share.
As I began to write this last night, 24 people were confirmed dead.  The pictures are apocalyptic.  The city's main hospital looks like it belongs in a war zone.  The high school suffered 'catastropic damage'.  Debris from Joplin is landing more than 80 miles away in the towns surrounding Springfield, Missouri.
I called Springfield home for 4 years…. so this story particularly makes me ache.  As I ached, I did what I normally do – I tweeted.  I listened.  I watched. I shared information. And you, in turn, shared it again and again.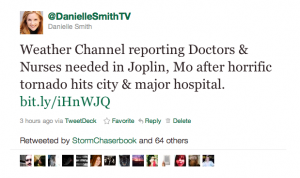 Every time you sent it out, you potentially put the information in front of someone else who needed it.  And never was that more clear for me than when I tweeted about a woman named Tami Roderick.  I learned about Tami on one of many Facebook pages that popped up to provide updates, to reunite family and friends and to provide ways for people to help.  On this particular page, Joplin, MO Tornado Recovery, I learned via @HealthByMom, Tami was looking for her mom and brother, Terri and Joel Stim.  So I tweeted about it.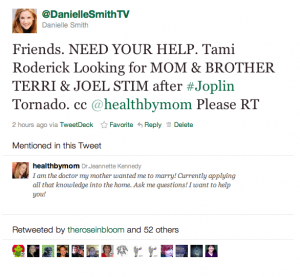 And because you are amazing and fabulous? And like me  - so many of you are moved by good, you simply couldn't bear the thought of this woman sitting in her home, unable to reach her family, devastated as she watched the video on the news. So you re-tweeted it and re-tweeted it.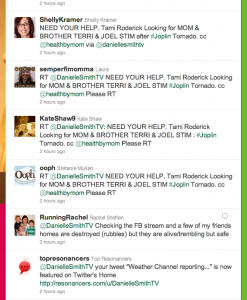 My stream was a beautiful mess of Re-tweets.  And it reminded me just how much I love what I do…. how happy I am to be a part of something so big, so strong, with the ability to reach out and touch people in minutes, in hours.
The Tornado hit shortly before 6pm Sunday night.  The first Facebook page of the Recovery was available, I believe, within an hour and a half.  As I lay in my bed writing this, nearly 5.5 hours later…. that Facebook page had over 33-thousand 'likes'.  Now, the next morning – it is up over 44-thousand. While that may not solve the problems Joplin is experiencing, and while the daylight is bringing more heartache, it is comforting to me to know there are thousands of people who care enough to share a message.

And this morning…  though I cried as I watched the news – hearing the death toll had reached 89 and was still climbing….  witnessing the loss, I also cried as I read this in my twitter stream.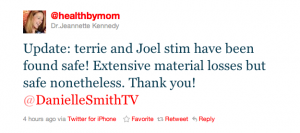 Thank you to the many, many people who shared this message…. who helped to get the word out.  The Red Cross has services set up to help families and friends find each other, but I truly believe all of the extra word of mouth helps.  And, just knowing that you are *maybe* helping in some small way?  That is priceless.
If you can help, please donate to the Red Cross of the Ozarks.
Thank you for keeping the power of good strong in my heart and mind and in those of the people of Joplin.